Arrests & Courage at Abortion Rights Speak Out
"Do not squander the courage of the testimony we have heard today, the hopes of those who have tuned in, donated, spread the word and are watching… and the strength and defiance of those who are about to put it on the line."
February 27 – in the heart of Manhattan – something different happened on 5th Avenue, one of New York's most famous and iconic streets. Right in front of St. Patrick's Cathedral, a major center of anti-abortion fanaticism, a powerful, deeply moving, and courageous rally and speak out was held. Speakers and participants shared a determination to build a mass movement that can stop attacks on the right to abortion. Everyone was inspired by the struggles and recent victories in Mexico, Argentina and Colombia—and many wore the green scarves popularized in Argentina as a symbol of this movement.
They included Merle Hoffman, who has provided abortions at her clinic for over fifty years and was an organizer of a historic pro-choice civil disobedience in the same location back in 1989. Lori Sokol, Executive Director of Women's eNews, exposed the range of rights that could fall if we don't defend the Roe v. Wade decision that legalized abortion nationwide.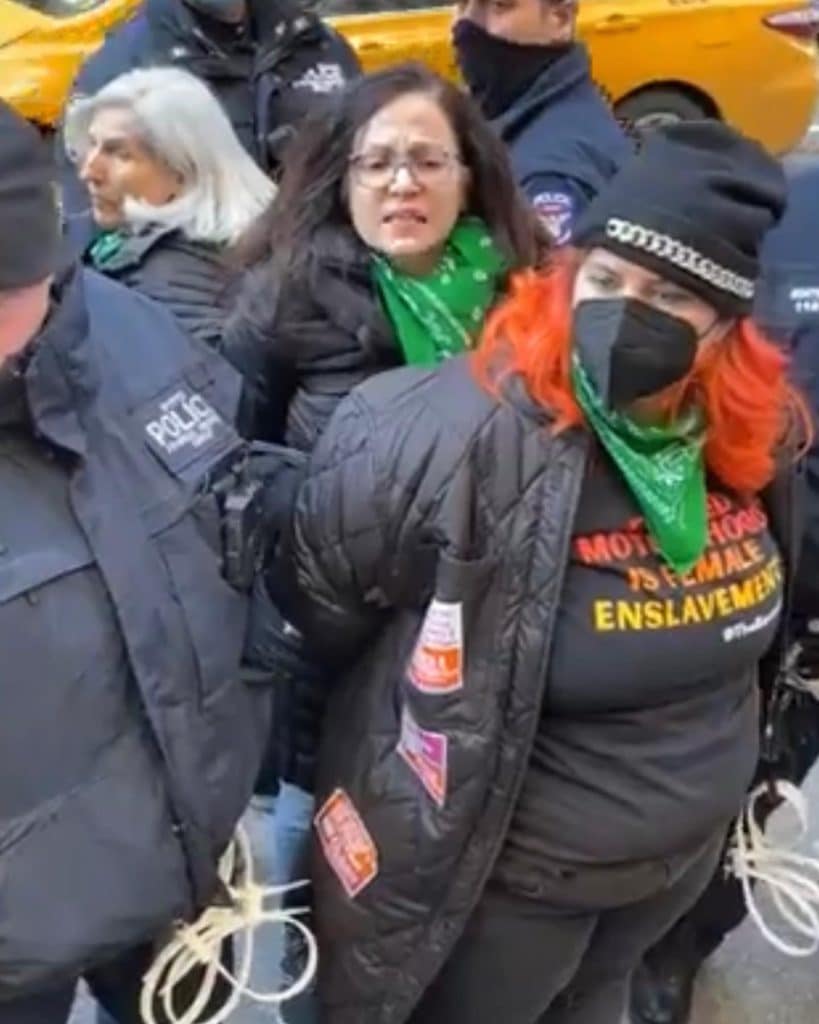 Novelist Kia Corthron and actor Cinda Lawrence read testimonies from women who risked their lives to get abortions before it was legal. Jim Fouratt, a longtime activist in NYC, told a harrowing story of finding a dear friend dead in her apartment after she died from an illegal abortion. Araceli Herrera blew people away with her courage, flying up from Texas that morning to tell the story of being gang-raped as a teenager, denied an abortion, and forced to live on the streets with a baby conceived through the rape. She was furious and insisted we all fight and that this never happens again to any woman anywhere. The atmosphere crackled after the rally when Sunsara Taylor led about 2 dozen people into the street and blocked traffic on 5th Avenue – one of New York's major streets. They were there for about 20 minutes before Sunsara and six others were arrested for disorderly conduct.
Sunsara concluded her speech with this powerful message: "Let's make this INTERNATIONAL WOMEN'S DAY 2022, MARCH 8, IN THIS CITY AT 3 PM AT UNION SQUARE AND IN RALLIES AND MARCHES AROUND THE COUNTRY—the day that the fascists and the women haters begin to get nervous, to realize that those they have stepped on, those they have silenced, those they have discounted and disrespected and treated as zeroes started to turn the tide of history. Started to make what had seemed impossible, possible. Just like Argentina. Just like Mexico. Just like in Colombia. And through our struggle, let us not only draw strength from the women in Poland who have waged this fight relentlessly but let us also feed strength back to them as they continue to fight—unbroken—until they win!
And from there—we go for real to the hard but necessary and inspiring work to spark and spread and organize a movement big enough, sure enough of our righteousness and relentless enough to stop this overturning of abortion rights dead in its tracks. And even more, to begin to turn the tide against the terrible future these fascists and the system that spawned them are trying to lock down, here and around the world.
This is what we are called on to do. This is what makes life worth living."
> YOU can make this movement known everywhere by donating for organizing expenses. 
Mark your calendar to be in the streets on March 8, International Women's Day to declare:
WE REFUSE TO LET THE SUPREME COURT DECIMATE ABORTION RIGHTS!
> Find March 8 protests here. It's not too late to organize one where you are.

Here are some of the speeches from the day.
Sunsara Taylor
Merle Hoffman
Araceli Herrera
Jim Fouratt