Cities Turn "Black Friday" Shopping GREEN 4 Abortion Rights & Spread Upcoming December 1 Nationwide Protests
On Novemeber 25th, activists went out to busy shopping destinations to spread the word about December 1 Protests. December 1 is the one year anniversary of the day the Supreme Court heard the oral arguments of Dobbs V Jackson, the case that ultimately overturned Roe V Wade on June 24, 2022. Rise Up 4 Abortion Rights has called for protests on the 1 year anniversary outside of courthouses across the country, to raise the green bandana & declare:
This Decision is ILLEGITIMATE!
Women Need LEGAL ABORTION ON DEMAND AND WITHOUT APOLOGY NATIONWIDE!
Forced Motherhood = Female Enslavement
Rise Up 4 Abortion Rights & Wear Green 4 Abortion on Dec. 1!
RiseUp4AbortionRights.org activists organized disruptive flash protests on Black Friday – turning the day GREEN 4 Abortion! This year, Black Friday fell on the November 25, #25N, the International Day of Action to Eliminate Violence Towards Women. So our actions took place among international protests that raised the green bandana!
"…I am thankful that you have chosen to turn a day like this into GREEN Friday, that means you know girls and women in particular suffer and endure every type of violence possible. Inflicted by patriarchal culture and capitalist society. And that the violent action of taking away women's right to abortion, is state violence"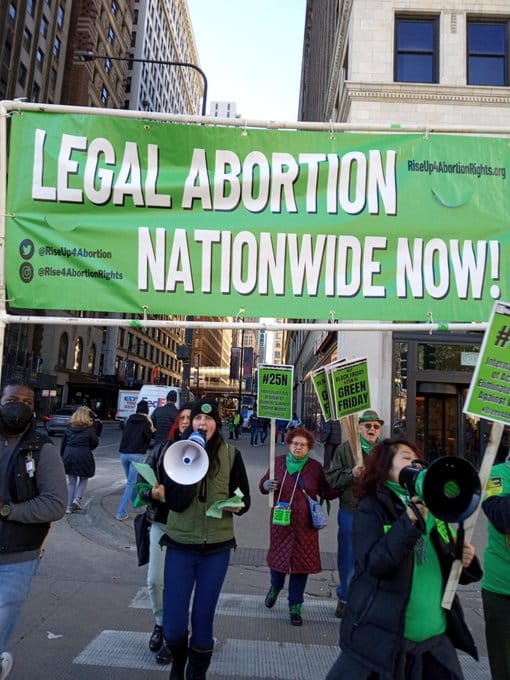 CHICAGO
Activists held mini rallies outside of the mall to attract shoppers to stop and listen, then went into Macy's, they chanted, drummed, and passed out flyers for Dec. 1. The chant that elicited the best response was "Rise Up for Abortion Rights, for Abortion Rights, Rise Up!" to let shoppers know what's needed.
Disrupting Chicago Macy's:
BAY AREA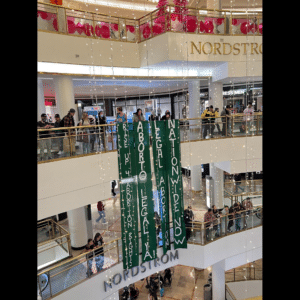 Activists brought holiday shopping to a HALT with a beautiful and dramatic banner and balloon drop, watch how they did it:
Joy Of Resistance
These pictures and the video shows the joy of resistance, the love and fighting spirit needed to win LEGAL ABORTION ON DEMAND & WITHOUT APOLOGY NATIONWIDE! Imagine these types of action in every city across the country! Seeing the green bandana and green posters everywhere, calling forward the millions of people who are on the sidelines to take to the streets in a Green Wave of mass non-violent protests, not stopping untill legal abortion is won nationwide.
Hundreds of invites for Dec. 1 got in the hands of shoppers who cheered the action on! A mall employee wrote:
Organizers of the action stated:
"We were inspired by the recent action held in solidarity with the people of Iran and in memory of Mahsa Amini at the Guggenheim Museum in New York. This action was staged by the Anonymous Art Collective for Iran, which deployed several long, vertical banners from an upper floor of the museum, visible to people on the lower floors and the central hub of the building. We decided to design a similar action around the Westfield Mall in San Francisco, which has an internal architecture somewhat like the Guggenheim's.
We made several 20+ foot, green banners with the slogans "Rise Up 4 Abortion Rights," "Legal Abortion Nationwide NOW," and "Aborto Legal Ya!" We also decided to do a timed release of large, helium-inflated balloons from the first floor, as well as a drop of smaller air-inflated balloons with palm cards promoting the December 1st action from the upper floors."
ATLANTA
The "Women in Jeopardy" game brought to you by SCOTUS modeled after the TV gameshow, was introduced to Atlanta Black Friday shoppers.
Set up outside a busy mall called Ponce City Market located off a popular path called the Beltline, activists said:
"All kinds of people frequent the Beltline especially on a Holiday weekend with family, so we met people visiting from many states across the country."

"We had different categories, 'Green Wave' '"Abortion Facts' 'Post Roe' 'Sex, Baby' 'Anatomy' 'Fetus Facts' etc. The prizes were stickers, bandanas and lots of green toys. It was a great success with many people stopping to play. It was the best interaction we have had with people on the Beltline where we have done a lot of outreach there in the past."
Activists used photos on their table of fetal tissue from abortions before 9 weeks from the "Issue of Tissue" project that went viral on social media and was published in The Gaurdian. Mya clinic, who worked on the project, shared the action:
LOS ANGELES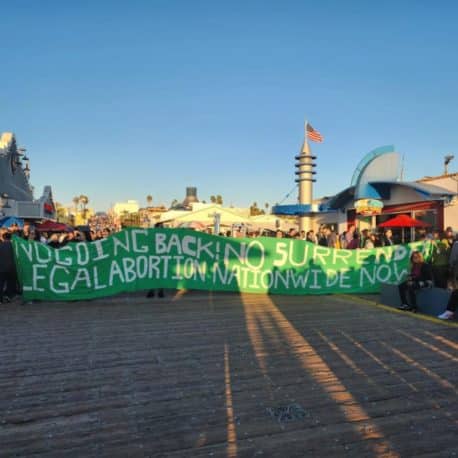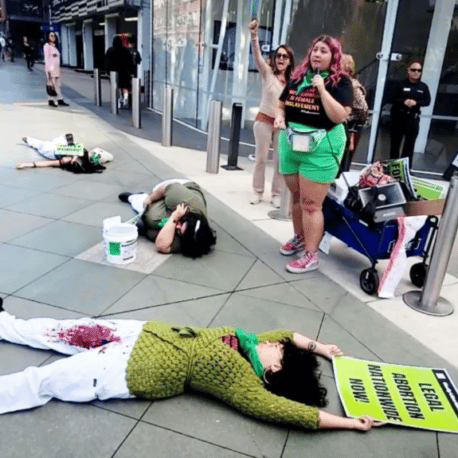 Santa Monica Pier & 3rd St. Promenade
An action took place at the 3rd St. Promenade in Santa Monica which was packed with families enjoying holiday shopping and visiting the Pier. Disruptive Die-ins were caught by the local news and made shoppers stop to check out what was happening. See highlights caught by a local videographer here:
An Iranian woman got on the mic to chant "Zan Zendegi Azadi" ( Women, Life, Freedom) she raised her fist and cheered the action on. Activists signed locals up, inviting them to Dec. 1 and told tourists about nationwide actions in New York and other places. They were joined by a group of activists from El Salvador, who brought their favorite #25N chant "Ni Una Muerta Mas" (not one more dead woman) and gave a statement about #25N.
MAGA supporting anti- abortion men harassed the demonstration and screamed about "late term abortions" and "murdering babies" and that women are "evil & turning away from god". This caused a brave group of young women (and their mom!) to stop and stand with us, arguing back and forth, putting forward the woman's life needing to be talked about!
We chanted "A fetus is not a baby, Abortion is not murder, and women are not incubators" which gathered a crowd of young women who signed up. The group finished the day with a march through the Santa Monica Pier and dropped a banner over the side while they chanted and agitated about Dec. 1 to beach-goers who took pictures and videos.
"Abortion on demand & without apology. Without this basic right, women can't be free!"
SEATTLE
Activists in green ponchos didn't let the rain stop them from turning Black Friday at the famous public market GREEN! They invited shoppers to Dec. 1, and green stickers demanding "Legal Abortion NATIONWIDE Now! They put forward a winning strategy through resistance in the streets, like our sisters in Latin America, an unrelenting green wave that could force the Democrats to act in ways they could, but won't, unless they feel they have no other choice! The Supreme Court Decision is ILLEGITIMATE and the enslavement of women through forced motherhood must NEVER be accepted!
HONOLULU
Spread the green wave with green flags outside of Ala Moana Shopping Center:
"We need to get out in the streets & demand abortion rights in the same way these rights were won in the first place… … taking a page from our sisters in Latin America, Colombia, Mexico & Argentina, create a green wave 4 legal abortion!"
NEW YORK CITY
Students in high school lead lively chants in Herald Square outside Macy's: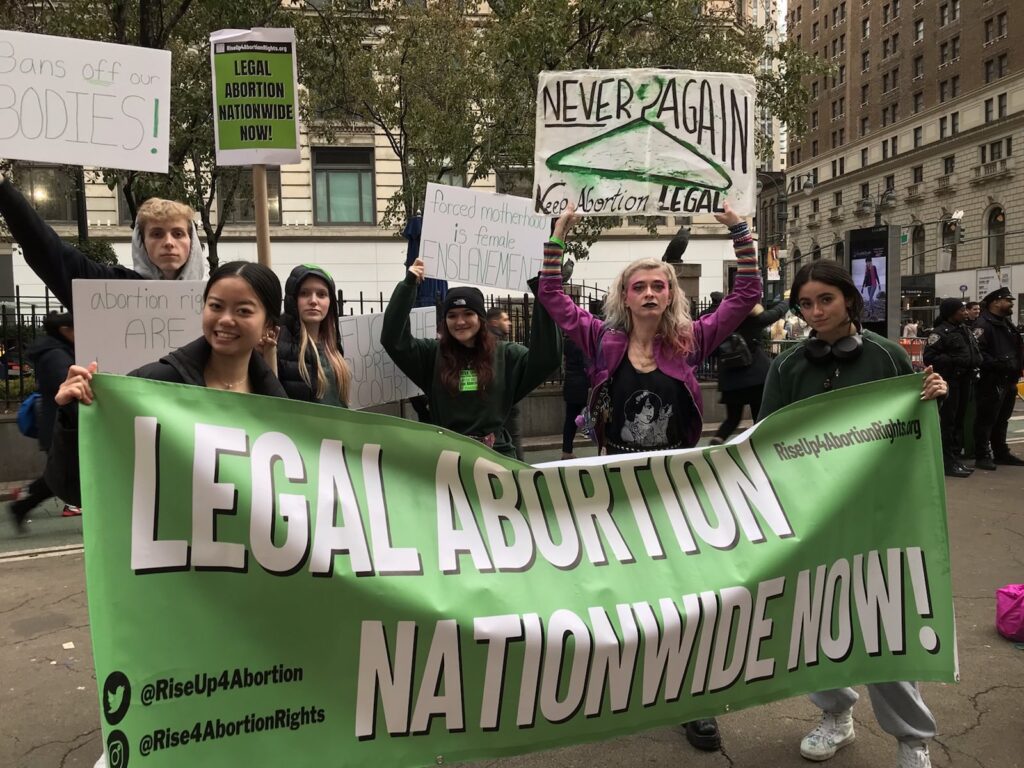 They raised money with green bandanas, and invited shoppers to be a part of Dec. 1 in NYC, disrupting the holiday shopping with short agitation like from this college student organizer:
Spread these creative actions, and do one of your own, if you don't have a Dec. 1 protest yet in your city, HOST ONE!